Well, probably not both at the same time, unless you happen to be unusually blessed by the deities of fortune. But as they say, you have to be in it to win it.
If you haven't heard of Deana Barnhart's Gearing Up to Get an Agent blogfest, go
here
for the details! Even if you're not looking for an agent, there are also chances to get signed by a small press, and it's a great opportunity to learn and network. I'm in awe of Deana for putting this massive event together.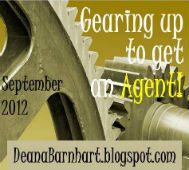 Now, a couple of giveaways. First up, Donna L. Martin is celebrating the nine month anniversary of her blog with two extremely generous book packages: one geared towards writers, the other towards readers. I'd be happy to receive either! Please visit Donna at her
website
or
blog
, and you can check out the contest
here
.
Next, E. Arroyo has got some great news to share: she was recently signed by Sapphire Star Publishing for her debut novel, The Second Sign, and she wants to give something back to all those who have helped and supported her on her journey. So she's holding an awesome giveaway of some great writing craft books. Go
here
for all the details. Please note, this contest is open to US residents only.
And finally, I want to say that I'm humbled and amazed to have reached 300 followers! When I started this blog, I thought it was extremely unlikely that anyone would even see it. So, thanks for being here, reading my flash fiction and helping me muddle through this whole writing malarky! A special hello to those I met in the Hookers & Hangers and What If bloghops, I look forward to getting to know you better! I'll be doing something special to celebrate so stay tuned.
For now though, I'm afraid I need to disappear for a week or so... I know I've just been on a break, but I'm going to see if I can't get my MS gleaming for GUTGAA! I've received tons of stellar feedback from my CPs, and I now have a better handle on what my novel needs. I'll still reply to any comments and visit you back. And if you're in for the blogfest, I'll see you there. Have a great weekend!